SS & GI Conduits & Accessories
SS & GI Conduits & Accessories
Electrix International Ltd UK is the inventor of the world's first completes Stainless Steel Conduit SystemThe vast variety of products in this range are UL classifed and all of their standard conduit boxes are also waterproof (IP67). With daily dispatches worldwide and large stocks available, Electrix truly is the market leader in Stainless Steel Cable Management System.
Stainless Steel Conduits & Accessories in 304 & 316
Stainless Steel Enclosures
Push Button, Terminal Control Enclosures
Stainless Steel Trunking System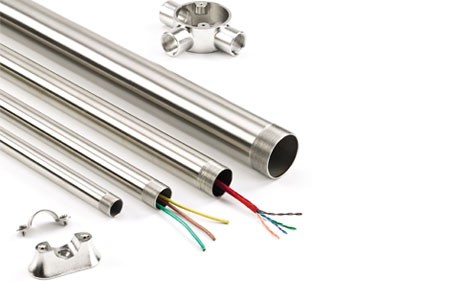 We offer quality products in a wide range of categories to meet with our customer's needs. Products are manufactured with highest specification in order to supply the best products to the industry at an affordable cost. All products are in full compliance as per BS 4568, BS4662,BS 31, BS731, BS4064, IEC 61386, IEC 60670 and BS EN 50086-2-3 .
G.I Conduits- Rigid (CLASS- 4 Hot Dipped Galvanized)
Flexible Conduits- Steel, Stainless Steel and PVC coated with brass & Brass Nickel plated Adaptor
Accessories- Conduit accessories, Saddles, Coupling Adaptable boxes etc